From Rappler (Jun 19):
20 ISIS cell groups operate in Mindanao – Calida
The Solicitor General lists down the 20 ISIS cell groups in his memorandum to the Supreme Court, to bolster the government's defense of martial law in Mindanao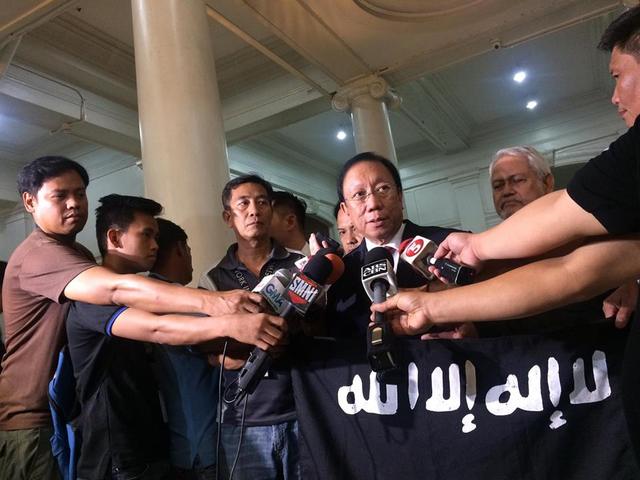 REBELLION? Solicitor General Jose Calida takes the ISIS flag to the Supreme Court (SC) on June 14, 2017 as part of evidence to say that ISIS links to local terror groups is proof that the Marawi City siege is a case of rebellion. Photo by Lian Buan/Rappler
Solicitor General Jose Calida on Monday, June 19, said there are 20 ISIS cell groups operating all over Mindanao, conducting coordinated attacks with local terror groups like the Maute.
Calida listed down the ISIS cells in his memorandum filed with the Supreme Court (SC) on Monday to supplement the government's defense of President Rodrigo Duterte's declaration of martial law:
Ansar Dawiah Fi Filibbin
Rajah Solaiman Islamic Movement
Al Harakatul Islamiyah Battalion
Jama'at Ansar Khilafa
Ansharul Khilafah Philippines Battalion
Bangsamoro Justice Movement
Khilafah Islamiya Mindanao
Abu Sayyaf Group (Sulu faction)
Syuful Khilafa Fi Luzon
Ma'rakah Al-Ansar Battalion
Dawla Islamiyyah Cotabato
Dawlat Al Islamiyah Waliyatul Masrik
Ansar Al-Shariyah Battalion
Jamaah al-Tawhid wal Jihad Philippines
Abu Dujanah Battalion
Abu Khubayn Battalion
Jundallah Battalion
Abu Sadr Battalion
Jamaah Al Muhajirin wal Anshor
Balik-Islam Group
According to Calida, the cell groups combine forces with
ISIS-inspired groups
like Maute, Abu Sayyaf Group from Basilan led by Isnilon Hapilon, Ansarul Khilafah Philippines (AKP), and Bangsamoro Islamic Freedom Fighters (BIFF).
"These ISIS-linked local rebel groups and ISIS cell groups have conducted violent activities, particularly in the areas of Basilan, Sulu, Tawi-Tawi, Zamboanga, and Davao, not merely to sow terror amongst the populace, but to dismember the country. They have the capability of conducting bomb attacks in any areas of Mindanao," the Solicitor General said.
Calida said a meeting was supposed to take place in the first week of 2017 among the 4 ISIS-inspired rebel groups to declare their unified pledge to ISIS, but they were pre-empted
by the death
of AKP leader Mohammad Jaafar Maguid or Tokboy.
Defense Secretary Delfin Lorenzana announced in January 2017 that the ISIS leadership
had made direct contact
with Hapilon to instruct him to find a suitable area in Mindanao where they could establish an ISIS caliphate.
Lorenzana said then that Isnilon was considering the area of Central Mindanao and was trying to get the support of the Maute group. Marawi City in Lanao del Sur is in Central Mindanao.
Intel on ISIS
Calida had also previously revealed, supported by the admission of the ground commander in Marawi City, that the Armed Forces of the Philippines
knew as early as April
that Maute had deployed its members to plot the attack in Marawi.
Major General Rolando Bautista said
they were waiting
for the Maute brothers to make a move, but were surprised to learn that Hapilon was also in the city, triggering the clashes that will enter its 5th week Tuesday.
As of posting, Lorenzana has not replied to Rappler's request for a comment on the supposed presence of 20 ISIS cell groups. In January, the defense chief said the military would not allow ISIS to establish a caliphate in the Philippines.
At the
Shangri-La Dialogue Security Summit
in Singapore on June 4, Defense Undersecretary Ricardo David said there were "250 to 400" ISIS fighters in the country.
But David's estimates were starkly different from the figures provided by his Indonesian counterpart, who pegged the number of ISIS fighters in the Philippines at 1,200.
"There are 1,200 ISIS in the Philippines, around 40 from Indonesia. This information I will inform to our counterparts in ASEAN,"
Indonesian Defense Minister Ryamizard Ryacudu said, citing regional intelligence.
Supreme Court justices wanted to determine, during the 3-day oral arguments on the anti-martial law petitions last week, if there was failure of intelligence in Marawi. The magistrates agreed to be briefed privately by Lorenzana, Military Chief General Eduardo Año, and other key security officers.
Lorenzana told Rappler that the interpellation by the justices brought out highly classified details, which they would not want the public to know.
"Aren't we the ones who get to decide which information is classified? Remember, our troops are still fighting and dying in Marawi.... As it is we have already made public more than the public should know," Lorenzana told Rappler through a text message.